Summary:
Bel Ami invites five Americans from Corbin Fisher back to enjoy the splendors of central Europe and central European boys. Now we invite you to come and watch the result of the hottest trans-atlantic cooperation of the decade!
Description / Review:
Twelve years after the original An American In Prague, BelAmi invites five Americans from Corbin Fisher back to enjoy the splendours of Central Europe and its European boys.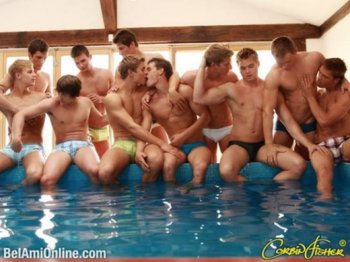 5 Americans In Prague begins with clean-cut Josh trading passionate kisses with golden-boy Luke Hamill - giving into ecstasy as Luke eagerly sucks down Josh's torpedo-stiff boner. Just a few deep-throat slurps of Josh's cock is all it takes for the young buck to surrender to Luke's sexually confident charms. Luke starts off slowly and builds to a furious piston fuck as he ploughs Josh in four separate positions. Josh is putty in Luke's hands and his wet explosive climax is the evidence. Luke then strokes out a load onto Josh's eager tongue and they end their episode with a tender kiss.
Green-eyed Elijah plays topman to cutie Ariel Vanean. They get right down to business stripping off each other's clothes as they kiss. Their frenzied blowjobs lead quickly to Elijah sliding his cock deep into Ariel's tight bum and pounding away. The young men switch positions as Ariel rides Elijah, ending with a pair of sticky wet cumshots.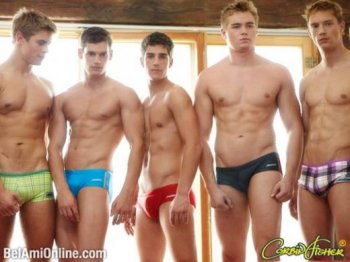 Muscular Zeke is the lucky guy who fulfils many a sex fantasy by anchoring a threeway with Manuel Rios and Brandon Manilow. Zeke makes out with Brandon as Manuel lies between them, sucking down both of their stiff dripping erections. He then climbs to his hands and knees to take a powerful fuck from Brandon, followed by Manuel until Manuel drenches Zeke's chest and abs with cum Brandon and Zeke's own popshots close out their episode.
Connor shows off his tight compact body in a playful episode with beautiful young buck Jean-Daniel Chagall. The two young men lick and suck their stiff erections in various positions as they find an erotic groove. Soon Connor is ready to experience the sensation of sliding into his partner's bum, and Jean-Daniel eagerly welcomes him.
Sascha Chaykin brings his extra long cock to a four-guy with Brandon Manilow, Josh and Connor. The quartet of hunks pair off and quickly get down to sucking cock with relish, Sascha rutting happily with Connor and Brandon confidently dominating Josh. When the fucking begins, Connor slides into Sascha's bum while Brandon plants his considerable cock inside Josh, and the moans and groans of pleasure mount as they trade partners.
Crazy-sexy Dawson puts his incredible, built-for-fucking bod to good use with Dolph Lambert for the final episode - a sensual and erotic roll in the hay. Their lovemaking beings with kisses and Dawson can hardly believe his luck as he works his way down Dolph's muscular torso to his stiff erection. Dolph groans with delight as Dawson sucks him to stiff readiness and they both find a groove as they make love in one position after another, building to a sweaty climax and a pair of well-earned cumshots.